I thought I might take on the challenge of this theme I saw on another
blog
. Here goes.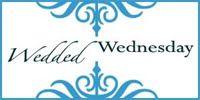 It is Wednesday, right? Okay, good.
What is Wedded Wednesday? Read for yourself:
Wedded Wednesday is a collaboration
of married bloggers sharing their inspirations,
anecdotes, struggles and thoughts regarding
the amazing union of two separate people, as one.
Saturday will be our 20 month wedding anniversary. I know what you're thinking. Who still counts months? It's kind of our thing. The number 13, that is. Our first date: August 13, 2008. Friday the 13th to be exact. Our first kiss? 13 Days later. We got married on June 13, 2008. Also Friday the 13th. So every 13th of the month is special. Its a little thing we share. I love it.
I remember the first time I understood what it felt like to be in love. To love someone so much that it hurt. It was January 2005. I cling to that feeling. Relish in its glory. In its pain. To have those fleeting thoughts of
accidents
and
this could be the last time
when he walks out the door. Only to have them swept away by a kiss.
Our wedding day. When we made that commitment that not matter what, we'd keep remembering that feeling of love so deep your heart hurts. It makes me smile. When I changed my name. I joke about my last name, but I'm proud of it. I'm proud of him.
The fights and arguments. I consider them moments made for future entertainment. The first feelings of accomplishment at doing something together. Buying a house, car, lawn mower. Putting the Christmas tree up together.
Cherishing the time we have on this earth and knowing I am blessed enough to have him to share it with. That is wedded bliss.
Purely. Simply. Love.